Education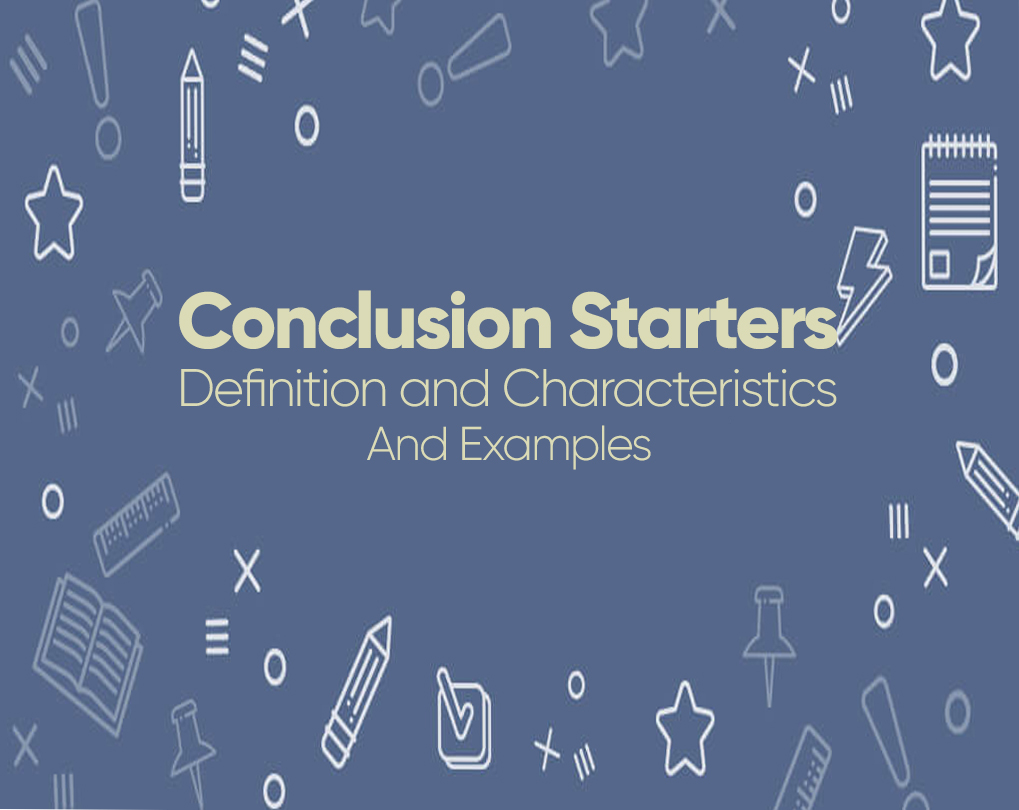 Conclusion Starters – Definition and Characteristics and Examples
Here we are giving the best conclusion starters for our readers. This reading will highlight how to write concluding sentences. We'll look at examples and starters. A short quiz will follow to test your learning about concluding sentences. A concluding sentence indicates that you are bringing closing to a paragraph. Writing a concluding sentence may not come as quickly as you may think. Many writers fail to realize that it closes out the final thoughts about the topic they are writing.
This is why you need to be able to write useful concluding sentences. For each paragraph, the reader should identify what you're key points are based on the concluding sentence. Remember, it should not add any information that was not discussed in the paragraph.
Conclusion Paragraph 
A conclusion paragraph is your last opportunity to leave your reader with a good impression. Your goal is to leave the reader feeling like they know your argument and evidence. An excellent conclusion should tie all of your ideas together. You can do this by using some particular examples, reiterating key points, and editing carefully. There are some steps you can take to write a strong conclusion to any paper.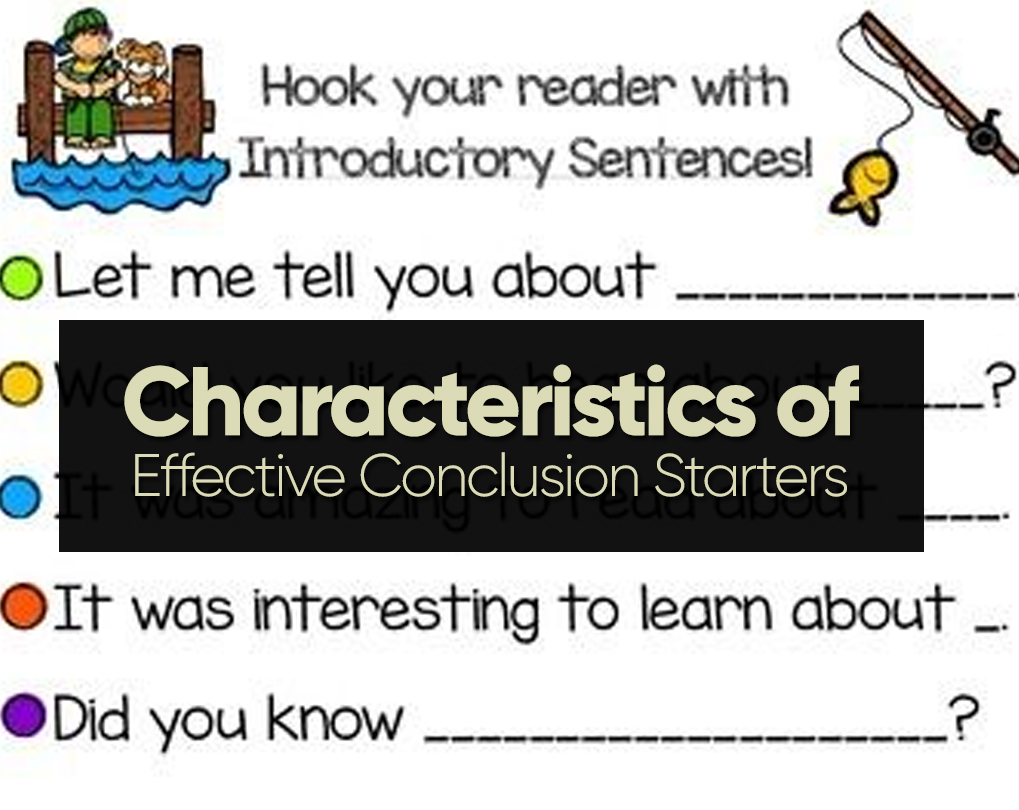 Characteristics of Effective Conclusion Starters
When it's time to bring your work to an end, it's important to sum up the key points or concepts rather than merely stopping abruptly. Conclusion starters are transitional phrases that let readers know they have reached the final part of a document. Conclusion starters should:
be just a few words that introduce the first sentence of the last paragraph or brief concluding section
let readers know that they have reached the beginning of the previous section
make readers aware that what they're about to read won't provide new information
set readers expectations for how the work will be drawn to a close (such as a summary of main points, statement of need for additional research, or call to action)
Conclusion Starter Ideas for Essays and Speeches
Whether you're a college, high school, or middle school student, the chances are that you will be assigned to write quite a few essays and deliver many speeches or presentations. When deciding how to end an article or a speech, you'll need to choose a conclusion starter appropriate for the overall tone. Examples of conclusion paragraph starter words and phrases include:
all things considered
clearly
given these points
I feel we have no choice but to conclude
in conclusion
in drawing to a close
in general
in light of this information
in my opinion
in summary
in the final analysis
nevertheless
now that you know
overall
the logical conclusion seems to be
to summarize
to sum up
ultimately
upon considering all the facts
upon exploring the situation from multiple perspectives
what else can we conclude but that
what another conclusion can we draw from
when viewed from the standpoint of
when faced with the question of
with all this in mind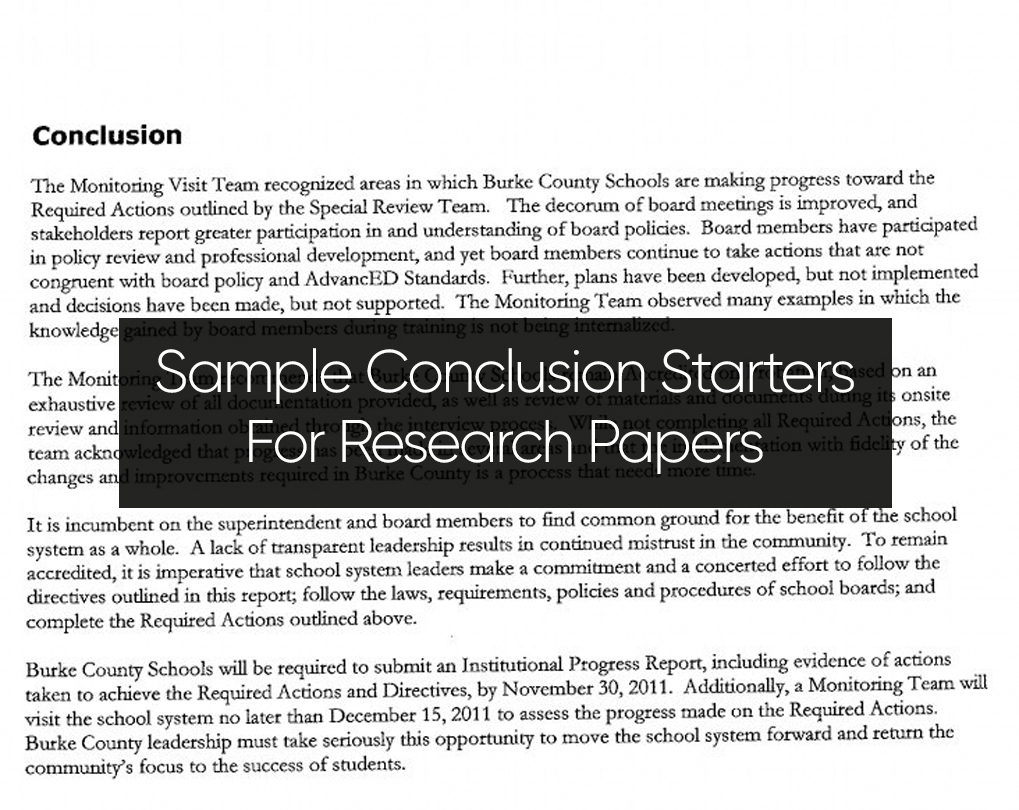 Sample Conclusion Starters for Research Papers
Since a research paper focuses on presenting a particular study's findings, the conclusion usually focuses on significant findings and their implications. For academic research papers, it is generally expected that the article will end with a call for additional research in the form of further study of a similar topic or to explore a related research question. The tone should be formal, taking into account the extent to which readers would be expected to have advanced knowledge of the subject matter. Phrases you might use to start your research paper conclusion include:
as a result
as expected, the results indicate
as indicated by the data
based on the evidence presented
based on the results of this study, it seems
based on what is known at this point
data seem to indicate
in light of these results
in the context of x, it seems that
in the final analysis
surprisingly, the data revealed
the data indicate
the data reveal
the major revelation from this study is
the results of this study demonstrate
the results of this study seem to indicate
to extrapolate from the data
upon analyzing the data
upon review of these findings
what this study reveals is
what we now know is
while additional research is needed
while further research is warranted
while these results seem to indicate
with products like these, it seems
Less Formal Conclusion Starter Examples
Some writing is much less formal than a research paper or school assignment, or you may even get assigned to write an informal essay that calls for more of a personal touch than an academic tone. You may want to opt for a conclusion starter with a more laid-back, conversational style like these examples in such cases.
after all, has been said and done
as I see things
at the end of the day
beyond a shadow of a doubt
in a nutshell
in case you've wondered
in simple terms
my personal take on
on the whole
the time has come
to cut a long story short
to cut to the chase
to get to the heart of the matter
to plainly state the facts
to wrap this up
what are we to think about
what I believe to be true
what it boils down to
what I think is
when all is said and done
who knew that
without all the mumbo jumbo
FAQs
Q: How do you write a conclusion answer?
A; Remember that everything you have to tell- all your conclusions about the topic and your facts that prove them – belong in the body of the paper. The ending merely wraps up the theme and ties it in a bow. Restate the purpose. Sum up – Wrap up all the details you've made into one general statement.
Q: How do you start a conclusion in MLA?
A: Restate your topic and why it is essential. Restate your claim, address clashing viewpoints, and clarify why readers should align with your site, Call for action, or overview later research possibilities.
Q: What is an example of a concluding sentence?
A: A concluding sentence can be done to give an overview of the main points of the paragraph. Example: The US government should legalize marijuana because it is popular, has widespread abuse that is difficult and expensive to police, and would be a profitable market to tax.
Q: How long should a conclusion be?
A: Most maximum conclusion paragraphs are four to five sentences long and should average between 50–75 words. They should be long sufficient to get your point across but short sufficient that you're not rehashing every idea you've ever had on the subject. Conclusion paragraphs begin by revisiting the primary idea definition.