Who Is An Esthetician And What They Are Trained For?
Estheticians specialize in beautifying the skin. It is important to note, however, that aestheticians are not medical healthcare providers, but instead perform cosmetic procedures such as facials, superficial chemical peels, and body treatments.
More than 60,000 estheticians are employed in the U.S., primarily because of aging baby boomers searching for non-invasive procedures to look more youthful.
Focus
A skincare therapist is an aesthetician who specializes in cosmetic treatments for the skin. An esthetician will be able to give you valuable information about your skin type and what skincare products are right for you.
Despite the term "medical aesthetics" being common, esthetics is not a medical field, and estheticians are not permitted to diagnose skin conditions, prescribe medications, or recommend treatment for any skin condition that is not cosmetic. The treatments that aestheticians perform are limited to treatments applied to the surface of the skin.
You can't get Botox or facial fillers here, nor can you get deep chemical peels. Medical professionals should conduct all invasive procedures, such as dermatologists, under the supervision of a licensed medical professional.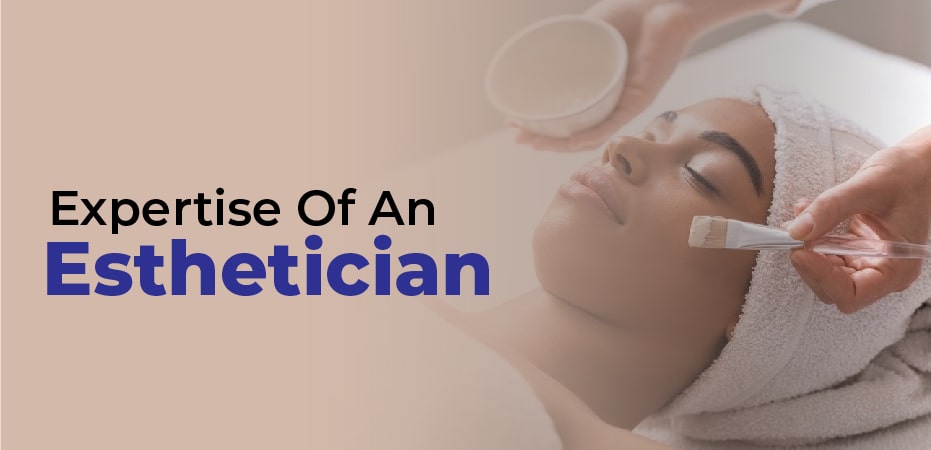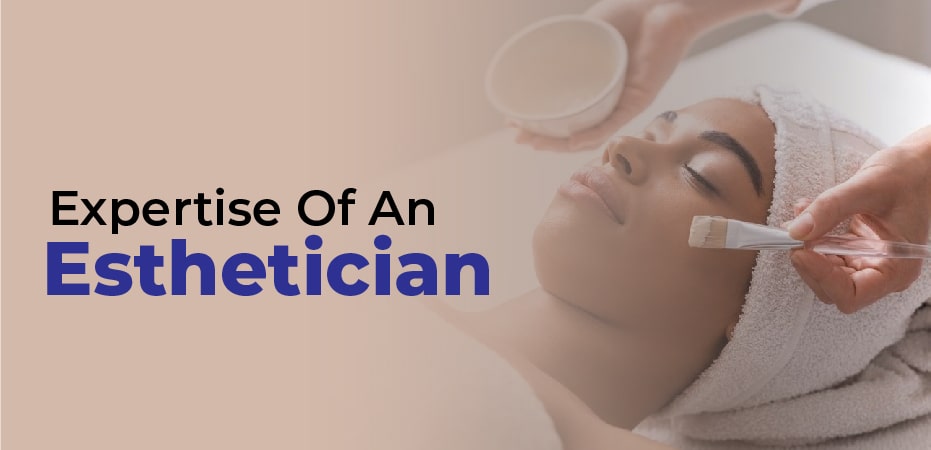 Expertise Of An Esthetician
The following are some of the fundamental treatments estheticians provide, regardless of their specialization and the type of spa they work at.
Doing Facials
This is the signature treatment of an esthetician. It consists of a deep cleansing, steam treatment, exfoliation, mask, and moisturizer or serum. During the procedure, you may also receive a facial massage, arm and shoulder massages, and specialized products may be applied.
Our facials are customized for your skin, so they cater to your needs and preferences. We have a variety of methods, so you can choose something unique for every facial.
Extractions In Facials
In most facials, you will also receive extractions. The esthetician removes blackheads that are not inflamed, and the oil and dead skin cells clogging up your pores are removed manually. The skin will feel and look better and you can prevent blemishes from forming in the future.
Acne Treatments On The Face
A regular esthetician treatment can help clear acne. In addition to exfoliating procedures and extractions, over-the-counter acne products can often reduce mild acne and blackheads. Those with moderate to severe acne, on the other hand, should visit a dermatologist for treatment. You can still hire an esthetician to help you with treatments that can work with prescription acne medications. A qualified dermatologist can also help you choose skincare products that counteract the harsh effects of acne treatments, such as extra dry skin.
Microdermabrasion To Remove Dead Cells
A wildly popular, specialty treatment, microdermabrasion is performed by some estheticians. The skin is gently scrubbed with crystals that pass over the dead skin cells. Following several sessions, the skin looks younger, is smoother, and more pigmented, as well as having enlarged pores less noticeable.
Superficial Chemical Peels To Make Your Skin Glow
Among the more popular chemical peels performed by estheticians are superficial chemical peels. Alpha hydroxyl acids (most commonly glycolic, lactic, or salicylic acids) are used to exfoliate the skin and create a healthy glow.
The peelings are often called lunchtime peels because they don't require any downtime. They can provide anti-aging benefits if done regularly. Your lunch hour is a good time to do them so you can get back to work immediately.
Scrub, Wrap, And Mask For The Body
An aesthetician is not just concerned with the face; they take care of the entire body. Sugar scrubs or salt glows are both great ways to exfoliate the skin. You can soften and brighten your skin by applying clay body masks or seaweed body wraps. Treatments like these deliver more than just silky smooth skin; they're also incredibly relaxing. Your aesthetician usually offers a variety of body treatments.
Waxing For Removing Body And Facial Hair
There are several ways that estheticians can get rid of unwanted hair, including waxing, tweezing, threading, and laser hair removal. There are many ways an esthetician can remove hair, and she won't be surprised if you ask her to do it "down there."
Bikini waxing and Brazilian waxing (removal of all pubic hair) are also quite popular, probably second only to eyebrow shaping. Number one among men's beauty services is waxing their backs and chests. Hair removal is a specialty of many estheticians.
Airbrush Tanning For Skin Glow
Some estheticians don't use this service, but it's becoming more popular as the public becomes aware of tanning's dangers. Golden glows are safer this way. Sunless tanning products are sprayed onto your skin by the esthetician. The tanning effect will last up to two weeks once it's dried.
Makeup Application For Different Occasions
Most estheticians offer makeup applications as well, whether it's for a bridal look or a prom look. Makeup isn't necessary for your appointment, since estheticians bring their kit. We recommend booking your makeup services as soon as possible, particularly during the busy spring and summer months.