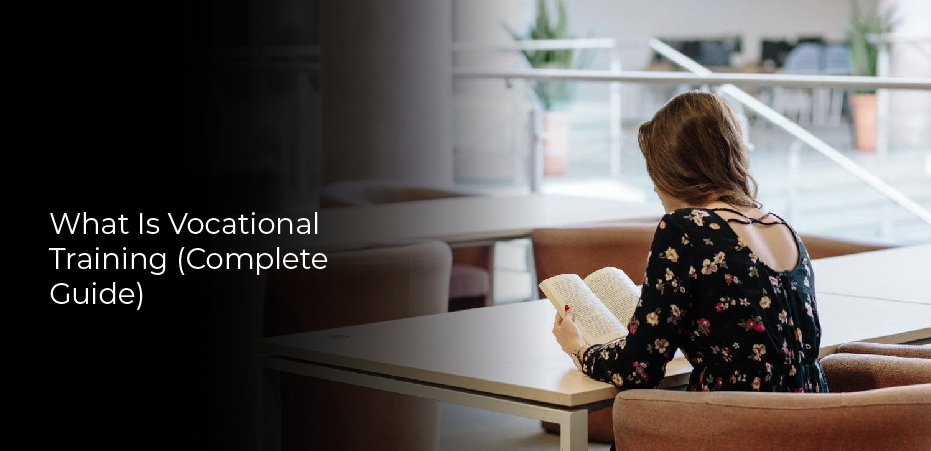 What Is Vocational Training (Complete Guide)
Vocational Training is a form of postsecondary education where people learn specific skills in a career field. These programs can take place at trade schools or online. They prepare individuals to work as a technician or tradesperson. VocationalTraining can be very helpful for people looking to start a new career in a certain field. This article will provide detailed information about the training that has been taken in an educational institute.
What Is Vocational Training?
Vocational education is a vital form of technical and academic training that prepares students for specific jobs. These programs aim to educate students in trades or crafts that are in high demand. Moreover, a vocational career guide is an important tool for understanding the differences between different types of vocational occupations and the earning potential of each.
Vocational schools provide hands-OnTraining in career-specific fields. However, students complete intensive programs in their field and do not have to take additional classes to graduate. Because the curriculum is career-specific, students have plenty of time to develop career-specific skills.
Different Criteria for Having Vocational Training
·        Postsecondary Education
Vocational Training is a form of education that helps people get work and is often referred to as postsecondary education. It is often used for job training and is funded by the federal and state governments. Federal schools receive funding from the federal budget, while state institutions receive funding from the state budget.
VocationalTraining is usually provided through professional schools and offers Training for a particular field. These programs often start in high school and can prepare students for high-paying, skilled jobs. In addition to training students for a specific career, these programs are accredited by independent organizations, which gives graduates an edge over their less-skilled counterparts.
·        Take As Little as Nine Months
Vocational training programs are flexible and offer day and evening classes, which makes them a good choice for working adults. For example, Delta Tech's nine-month dental assistant program prepares students for a career assisting dentists. Dental assistant jobs involve patient care and related duties, and the job outlook for this profession is positive. Demand for dental assistants is expected to grow by 19 percent through 2026.
The federal and state governments provide professional training programs. Federal schools receive funding from the federal budget, while state budgets fund state-level institutions. The federal government also funds the State Centres for Scientific and Technological Studies (CECyTE), which is 50% federally funded and 50% state-run.
·        Expensive
The cost of vocational Training is high, especially for students from the European Union. While Slovenians can join public schools almost for free, EU citizens will have to pay to attend private institutions. However, some scholarships available cover the costs of training materials. Such scholarships are part of various development cooperation programs. One of these opportunities is the Erasmus program.
In addition to a lack of funds, training facilities must be functional. This is a necessary part of producing skilled workers. To make vocational training facilities viable, they should have a joint strategic framework that prioritizes resources.
·        Tech Prep Education
Programs like Tech Prep prepare students for high-tech careers by bridging the secondary and post-secondary education gap. However, tech Prep programs combine 2 years of secondary and postsecondary education by combining this education. Moreover, the program usually leads to a certificate or associate's degree in a particular field of study. Among the areas of focus are:
Engineering
Technology
Applied science
Health
Applied Economics
Key Features of Vocational Education & Training
vocational education and training (VET) are designed to provide practical skills and knowledge for specific occupations or trades.
VET courses are typically shorter than university degrees and can be completed in a vocational college, TAFE institute, or private training provider.
VET qualifications are recognized by the industry and can lead to apprenticeships and traineeships or further study at university.
vocational education and Training can be delivered as part-time or full-time courses and may be available online.
vocational courses often include work placement components, allowing students to gain real-world experience.
Vocational education and Training are available at the certificate, diploma, and advanced levels.
Vocational education and Training can lead to a career in a wide range of industries, including agriculture, construction, hospitality, information technology, manufacturing, and retail.
Vocational courses often have lower entry requirements than university degrees, making them accessible to a wider range of students.
Verdict
Vocational training is essential for anyone who wants a career in engineering. It's a subject that doesn't get much attention but is very valuable. You may not realize it, but it's also a major part of the economy.
The US has a problem with engineers. However, we don't have enough of them to meet the demand. There are more than a million job openings, and about 800,000 people are unemployed. That's why the National Science Foundation is launching a new program called the Engineering Career Pathways (ECP). "It's an attempt to make the science and technology workforce available to students," says ECP Program Director Daniel T. Wigdor. "This is a way to get many more people into engineering and science.