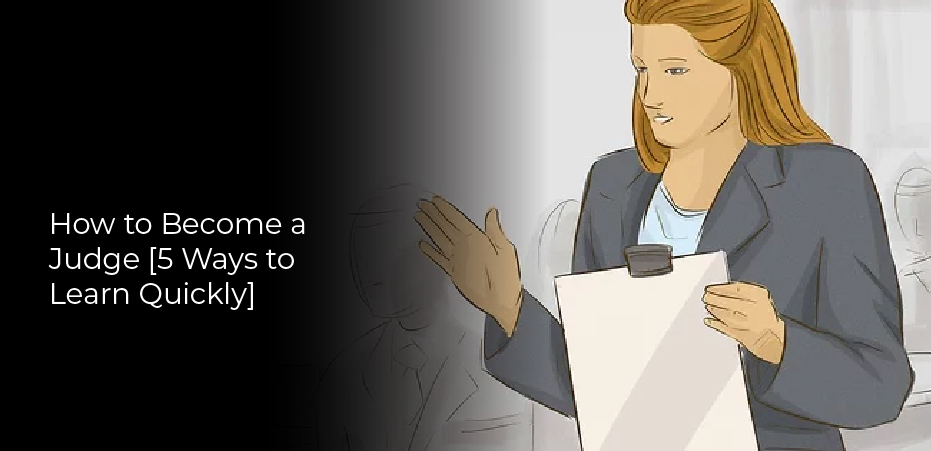 How to Become a Judge [5 Ways to Learn Quickly]
If you want to be a judge, it is important that you have a combination of education, experience, and training. Most jurisdictions require candidates to practice law for two years before they can be considered for judicial office. Networking is your best friend, so make yourself as well-known as possible. Judges are public figures, so you should be prepared for the publicity.
Who Is Judge?
A judge is a person who presides over court proceedings, either alone or as part of a panel of judges. The powers, functions, appointment method, discipline, and training of judges vary widely across different jurisdictions. The magistrate is supposed to conduct the trial impartially and in an open court.
The judge hears all the witnesses and any other evidence presented by the case's barristers, assesses the parties' credibility and arguments, and then issues a ruling on the matter at hand based on their interpretation of the law and their own personal judgment.
In some jurisdictions, the judge's powers may be shared with a jury. In inquisitorial systems of criminal investigation, a magistrate might also be an examining magistrate. A variety of traditions have become associated with the office of the magistrate. Judges wear wigs and robes in many jurisdictions.
Now let's follow the step to becoming a magistratein court.
1.    Qualifications
You will be responsible for hearing and ruling on court cases as a judge. As such, you must have a wide knowledge of the law and be able to use it wisely. Being well-educated is crucial, as is having a professional attitude. A strong understanding of the law and court procedures is the most crucial skill you will need. Having a deep understanding of society and its issues will also help you make better decisions.
If you are interested in becoming a judge, the first step is completing your higher secondary education. This is also called a 10+2 education, and it is required to take the Common Law Admission Test (CLAT). Students can opt for a general education or a specific field of study, such as economics, history, or the law.
2.    Skills
If you want to become a magistrate, you need to develop a combination of hard and soft skills. However, you must know that becoming a judge is difficult. It takes a lot of education, experience, and extensive knowledge of the law. You must also be a good lawyer and have a good reputation in the field.
Judges are expected to be impartial and fair. They must be able to identify their biases and not let them influence their decisions. Being fair and objective is important in this job since the case's outcome could affect someone's life.
3.    Judge Training
Training to become a judge requires many different skills. A magistrate needs to be able to weigh evidence, apply the law, and make quick decisions. They must also be skilled at listening and evaluating complex information. In addition, they need to be able to write clearly. According to the Bureau of Labor Statistics, a magistrate must possess the following qualities:
Applicants must also have prior legal experience. Most judges spend a few years clerking for a law firm and practicing as a defense or prosecutor. This broad legal experience provides an excellent foundation for sitting on the bench.
4.    Education
If you're interested in becoming a judge, you should obtain as much legal experience as possible. This means working as a sole practitioner, in a larger law firm, or even as a public defender. These positions will give you more experience and make you more qualified to magistrate. You should also cultivate political connections and participate in community affairs.
A law degree is necessary to become a judge, and most states require law school graduates to take the LSAT. The application process can be long and rigorous, but it's well worth it if you are passionate about justice. In addition, you'll need to pass a bar exam.
5. ExperienceRequiredto Become a Judge
Becoming a judge is a prestigious and rewarding career. It is the dream job of many. It takes a lot of work and dedication to attain this position. In addition to earning a good salary and title, being a magistrate also allows you to make a difference in the lives of others.
Before leaping the bench, aspiring judges may work for a city prosecutor's office or government agency. They may also continue their education by pursuing a Master of Law or Doctor of Law degree. This allows them to solidify their knowledge in every area of the law. Once they've completed their education, they can be appointed or elected to the bench. Experience is not required in every court system but it is a great asset.
A good magistrate should have the ability to listen to many different viewpoints and remain fair. They must have strong reasoning skills and be able to make sound decisions, particularly under pressure. They should also be patient and empathetic with a wide range of people. Being a judge requires a thoughtful, balanced, and legal-accurate analysis of every case.    
Verdict
To become a judge, you must complete your law degree and be admitted to the bar. After that, you can apply to become a magistrate through your state's judiciary. Each state has different requirements, but most require that you have at least five years of experience as a lawyer before you can be considered for a judgeship.
Some states also require that you be a member of the state bar. Once you have met all the requirements, you will be interviewed by a panel of judges and must pass a background check. If you are selected, you will then be appointed to a court by the governor.