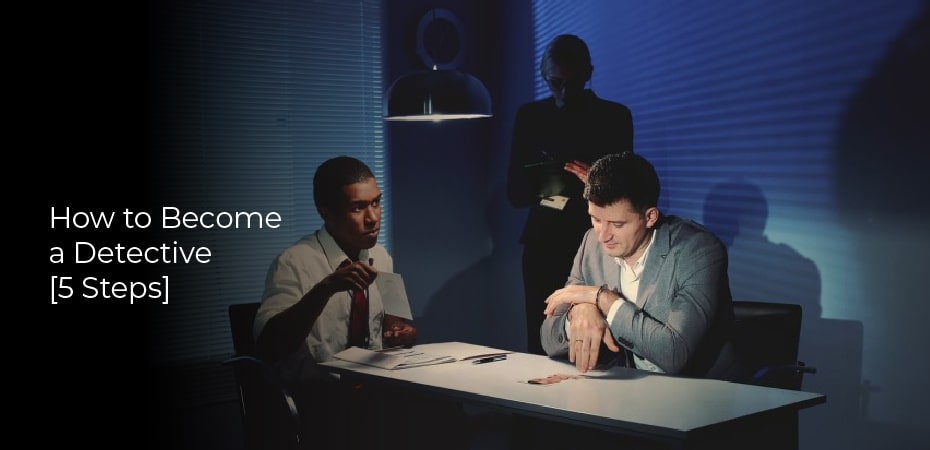 How to Become a Detective [5 Steps]
Becoming a detective requires more than just an interest in crime and justice. It requires dedication, hard work, and the right training. This guide will cover all you need to know about becoming a detective, including the required qualifications, job duties and responsibilities of detectives, salary information, and career outlook for detectives.
We'll also discuss the different types of detectives and entry-level positions in the field. Finally, we'll offer tips for those looking to break into the private eye profession. With this information at your fingertips, you can make an informed decision about whether or not being a detective is right for you. So let's get started!
What Does A Detective Do?
The two most common types of detectives are public detectives and private detectives. No matter the job, solving puzzles is an important part.
A detective is an investigator, usually a member of a law enforcement agency, who locates missing persons, arrests suspects, and helps prosecutors gather evidence for court cases.They work in public law enforcement, such as police departments, sheriff's offices, or government investigative agencies.
The common duties of a detective include the following:
Investigating criminal activity and promoting crime prevention.
Questioning witnesses and suspects and filing appropriate documentation for police records.
Reviewing record videos or other evidence that might reflect the illegal activity.
Conducting or supervising a crime scene search.
Testifyingin criminal court cases.
Performing patrol, emergency, and routine tasks within assigned jurisdiction.
Law enforcement detectives and private investigators have similar tasks with one key difference.
How To Become A Detective?
Becoming a detective usually requires a college degree and specific training set by the state, country, or city jurisdiction where you desire to work.
These are the following steps to become a private eye are:
COMPLETE POLICE ACADEMY TRAINING
Becoming a detective requires both experience and training. As a police officer, you must fill out the police academy's training and obtain experience before you can become a private eye.
FULFILL EDUCATIONAL REQUIREMENTS
Whenever you want to work there, depending on your state's requirements, you may need a high school diploma or GED. Or, make yourself a more desirable candidate by pursuing higher education. Obtain a degree in an area relevant to police work, such as an associate's or bachelor's degree.
They work in law enforcement. You can compete for promotions with advanced degrees and certificates, but they are not usually required.
Once you have done the main necessary of your state or agency, you can grow your law enforcement experience. Some have work experience, and others/can only need two to three years of experience or even a degree. Other states and law enforcement agencies may require up to five years of documentation.
COMPLETE LICENSING REQUIREMENTS
Many are required to pass the national detective, and investigative test (NDIT), and other states may require detectives to possess a state license or certification.
APPLY FOR ADVANCEMENTS AND OPEN POSITIONS
Commonly police officers seeking a detective act may apply for promotions through their employing agency. They may also find positions in other areas and transfer across jurisdictions
What Are the Skills Of a Detective?
The detectives need to work on interpersonal and intelligence skills like:
Critical thinking
Decision-making
Problem-solving
Patience
Attention to detail
Verbal communication
Written communication
Nonverbal communication
Computer expertise
Emotional intelligence
What Are The Detective Specialties?
Detectives have different specialties depending on the jurisdiction they work in and the kind of crime they specialize in. Common specialties include homicide detective, cyber-crime/cyber security investigator, criminal investigation specialist, forensic science technician, fraud investigator, and narcotics detective. Each specialty has its own set of requirements that must be met before one can become a detective.
· Homicide Detective
They investigate death cases, confirm when and if foul play is involved, and track down suspects.
· Cybercrime Detective
Cybercrime detectives investigate computer hackers and other online crimes to catch suspects doing crimes online using hacks and proxies.
· Narcotics Detective
They are monitoring drug activities and gathering evidence to arrest drug trafficking suspects and track their chains that smuggle drugs over the countries and inside the countries.
· Forensics Detective
They analyze physical and digital evidence from crime scenes and track the suspects.
· Special Victims Detectives
Investigate child abuse, neglect, domestic violence, sexual assaults, or exploitation.
· Robbery Detectives
They investigate bank robberies, serial robberies, and extortion. However, robberies involving federal jurisdiction may include working with the FBI or other agencies or teams.
ACareer Advancement Opportunities for Detectives
Police detectives can rank as deputy chief or chief within their agencies or teams. A career as a criminal investigator can also advance as some branch into cybersecurity-related jobs or government positions, including those involving investigative agencies, providing detectives with a variety of career opportunities.